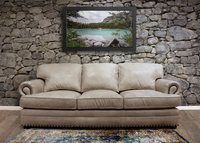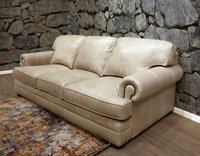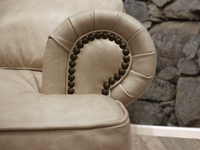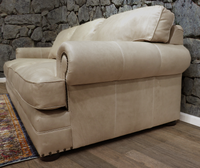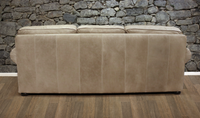 507-03 Tahoe Leather Sofa
Tahoe Leather Sofa
When size matters and you need a large sofa, we at American Classics Leather will always recommend the 507-03 (Tahoe) leather sofa. This is one the largest standard size sofa we offer. It is approximately 96 inches long and 44 inches deep with 26 inch seat depth. This leather sofa not only offers the size that people are wanting, but also gives our customers the classic style that has made American Classics Leather what we are today.
The 507-03 (Tahoe) leather sofa is built to the same standards that all of our American Classics Leather furniture is held to. American Classics Leather will only use a true solid hard wood frame. American Classics Leather will never use any plywood to construct a frame. American Classics Leather will only use a true 8-way hand tied seating system. This seating system is not only the premier seating system, but we at American Classics Leather feel that it is even more important on this style and or any larger leather sofa. The amount of seating area needs to be well supported on any size sofa, but when you have a larger sofa the seating area support becomes paramount. Using a lower quality seating system will break down over time and will cause you to feel like you are sitting in the cavity of the sofa. We at American Classics Leather take a lot of pride in our frames and our seating systems, so we would never use an inferior seat core. As Many of our competitors will try to convince you that their seat cushions are the best, but that bodes the question – Why do they offer a similar seat cushion as American Classics Leather, but just have it listed as an option with an upcharge attached to it?
Building the 507-03 (Tahoe) leather sofa to our high standards is just half of what goes into this style. The rest is what brings out the beauty of the sofa, and it all starts with the choice of leather. We offer this style in 40 different leather options. This leather sofa comes standard with a beautiful combination of both welting on the seats and back cushions, along with our signature double needle stitching on the rest of the leather surfaces. The nail heads on this sofa are all hand driven. If you prefer your sofa without nail heads, just let us know. We will be more than happy to build this sofa without the nail heads. The feet of this sofa can be finished in one of three different finishes.
The 507-03 (Tahoe) leather sofa is just another example of what American Classics Leather can do. We combine unmatched construction with superior tailoring. The finished product will be a piece of furniture that will last you and your loved ones will last for years. With so many choices, we are here to help you make the right one. Our design team is more than willing to help answer any questions you might have.
Size
Length: 96" Depth: 45" Height: 37"
Seat depth: 26" Arm height: 25"