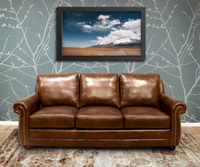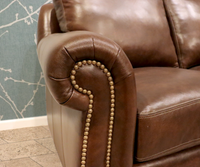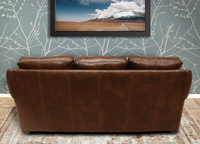 289-03 Lenoir Leather Sofa
True American-Made Leather
The 289 Lenoir Leather Sofa is a great piece of American made leather. Featuring a scored bun foot and a 6" rolled arm with nailheads, it can make a great addition to any room. Because the 289 Lenoir Leather sofa does not have an "ear" behind the back cushion, it has a "wing" back rail.
This leather sofa has a solid wood frame and is covered in top or full-grain American made leather. The customer is able to choose between several different feet and nailhead finishes, as well as between a spring cushion and a premium lux down cushion. Customers can also choose between four different grades of American made leather. The 289 Lenoir Leather Sofa comes with an optional extended warranty and free nationwide in-home delivery.
For individuals or families looking to add a leather sofa featuring authentic American made leather, the 289 Lenoir Leather Sofa by American Classics Leather is the perfect piece of furniture.
Size
Length: 88" Depth: 36" Height: 36"
Seat depth: 21" Arm height: 26"