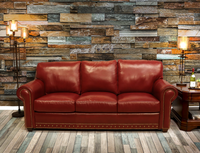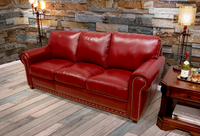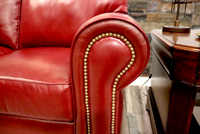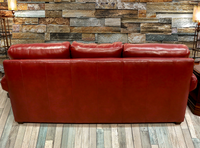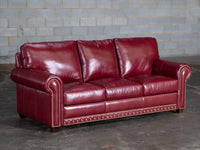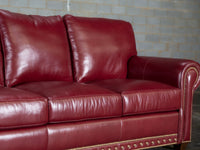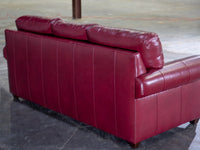 354-03 Harrington Leather Sofa
A Handcrafted Rustic Leather Couch
The 354 Harrington Leather Sofa by American Classics Leather is a rustic leather couch. For individuals, families, business owners, or anyone else looking to add a retro but elegant piece of leather furniture to a room, the 354 Harrington Leather Sofa needs to be considered.
Featuring rolled arms with nailheads, the arms on this rustic leather couch are welted instead of pleated. There are also three rows of nailheads on the front rail, of which the customer can choose from up to three different finishes. The sofa also features tapered feet on the bottom. Like the nailhead selection, there are three options of foot finishes available to compliment the rustic look of this leather couch.
The 354 Harrington Leather Sofa can be further customized as there are four different grades of leather to choose from and two different types of seat cushions. This allows the customer to design and receive a truly unique rustic leather couch. An extended warranty and free in-home delivery are also available.
Size
Length: 91" Depth: 39" Height: 38"
Seat depth: 22" Arm height: 27"